$2,150.00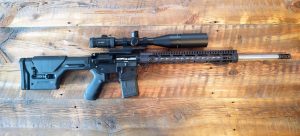 Contact Us About This Product
Description
SOLD !!  This is a custom build, match grade AR-15 in .204 Ruger.  It is built on a precision machined receiver made by Black Gold Custom Arms out of Belgrade, Montana.  Each of their receivers is manufactured from 7075 aluminum billet, is hand finished and then coated with hard anodize per Mil-A-8625 specifications.  For more information, check out their website: https://blackgoldcustomarms.com.
The barrel is a 22″ McGowan target grade stainless steel barrel with a faster 1-10″ twist to stabilize the heavier 40 grain bullets. It also shoots the 32 grain just fine. Most factory 204 Rugers come with a 1/12″ twist, which while good for 32 grain bullets, will generally not stabilize 40 or 50 grain loads. The barrel end is threaded.
This build used only the finest AR components:
McGowan Match Grade 22″ precison stainless barrel
Black Gold Custom Precision Receiver
Timney AR 15 Trigger
BCM Gunfighter Ambi Charging Handle
Midwest Industries 15″ Key Mod Handguard
Mag Pull PRS Stock
WMD Nickel Boron X Bolt Carrier Group (BCG)
Vortex 30 mm Cantilver Scope Mount
ODIN WORKS Bi Pod Adapters
Vortex Viper PST  16×50 Scope with Sun Shield
Double Star Safety Selector
DPMS Magazine release
ERGO grips
WMD Nitro Met Rifle Length Gas tube
Rock River Star Safety Selector
Rock River Arms Forward Assist
Rock River Arms Ejection Port Cover
Odin Works Low Profile  Gas Block
A2 Stock Completion Kit
Spring Kit
ERGO Lower Spring Kit
KNS Precision Pin Set
Magpul Magazine
Less than 100 rounds have been through the rifle. Even before complete break-in it's shooting 0.5 – 0.75″ groups at 100 yards. That was off a bi-pod and Hornady factory 40 grain V-Max loads.  The scope is a Vortex Viper PST in 6X24x 50 with illuminated reticle. Check component prices. I have over $3000 in the rifle build and scope. If you are looking for an AR in 204 Ruger that is optimized for 40 grain loads (think coyotes, marmots and wood chucks) this rifle is a great option.  Must ship to an FFL.